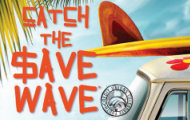 Catch the Save Wave
Join us for National Credit Union Youth Week™ April 20th – 26th!
Here at Alabama Teachers Credit Union, we take the next generation very seriously. The sooner kids and teenagers can learn solid savings habits, the better their financial futures will be. That's why we offer a suite of savings accounts for different age groups.
Open a new youth account or add an additional approved service* to your existing youth account during this special week to be entered to win a weekend trip to the beach!* On Friday, April 25th stop by your local branch for educational literature, refreshments and special prizes just for you!