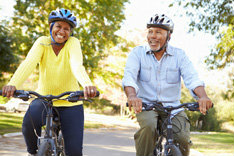 Individual Retirement Accounts (IRAs)
Make real headway toward retirement when you open an IRA, including tax incentives* to help you get there. The sooner you start, the more likely you can retire at a timely age.
Find financial flexibility in your golden years. So you can spend your free time on your terms — not stuck behind a desk to draw a paycheck.
Benefits

Tax-advantaged* retirement savings

Competitive dividends above standard savings rates

Traditional and Roth IRA options

No setup fees

No monthly or annual maintenance fees

Additional $1,000 "catch-up" contribution allowed for ages 50+

Low $5 minimum deposit to open




Traditional vs. Roth

Traditional and Roth IRAs both offer unique tax-advantages* to accelerate your retirement saving. What's the difference? Compare below and consult a tax advisor to determine what type of IRA best suits your long-term plans.




Traditional IRA

No income limits to open
No minimum contribution in any year
Contributions are tax deductible on state and federal income tax*
Earnings are tax deferred until withdrawal (when usually in lower tax bracket)
Withdrawals can begin at age 59½
Early withdrawals subject to penalty**
Mandatory withdrawals at age 70½
View NCUA's Share Insurance Toolkit to utilize savings calculator

Roth IRA

Income limits to be eligible to open Roth IRA
Contributions are NOT tax deductible
Earnings are 100% tax FREE at withdrawal*
Principal contributions can be withdrawn without penalty*
Withdrawals on interest can begin at age 59½
Early withdrawals on interest subject to penalty**
No mandatory distribution age
No age limit on making contributions as long as you have earned income
View NCUA's Share Insurance Toolkit to utilize savings calculator




*Subject to some minimal conditions. Consult a tax advisor.

**Certain exceptions apply, such as healthcare, purchasing first home, etc.




Coverdell ESA

Start your child down the path to higher education with a smarter way to plan for rising tuition prices. So when the time comes, your student can focus on his or her studies instead of the cost.




A Coverdell Education Savings Account (ESA) earns tax-free* dividends to put towards qualified educational expenses — including tuition, books, board, and more.




Details:

No setup or annual fee
Dividends grow tax-free
Withdrawals are tax-free when used for qualified education expenses*
Designated beneficiary must be under 18 when contributions are made
To contribute to an ESA, certain income limits apply**
Contributions are not tax deductible
$2,000 maximum annual contribution per child
View NCUA's Share Insurance Toolkit to utilize savings calculator




*Qualified expenses include tuition and fees, books, supplies, board, etc.

**Consult a tax advisor.