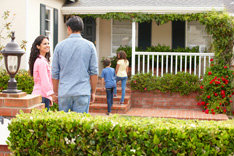 Home Mortgage Loans
Take the hassle out of your home purchase with a home mortgage loan from Alabama Teachers Credit Union. We offer competitive mortgage rates to fit your family's needs.
So you can open the front door to your future, without pulling the floor out from under your finances.
Benefits

Several convenient mortgage options

Competitive rates across the board

Variable and fixed rate mortgages available

Flexible terms to meet your family's needs

Helpful, down-home personal service

Plus, see if we can help you refinance and save!




Contact Alabama Teachers Credit Union to learn more about financing your home through us.




The rate may vary depending on each individual's credit history and underwriting factors.