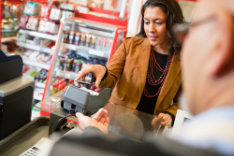 Platinum Visa® Credit Card Programs
Used wisely, a credit card can be a smart financial tool. Alabama Teachers offers a variety of Platinum Visa® Credit Card programs, giving you access to credit whenever and wherever you need it. We also offer competitively low APRs, no annual fees, and a 25-day interest-free grace period. Plus, cash in with exclusive Score Card® Rewards!
Carry the card that fits you best--Platinum, Platinum Plus, Platinum Premier, even a Synced* card, courtesy of the credit union that partners with you.
Benefits

All Alabama Teachers Credit Union Visa® Credit Cards include:

An exclusive Score Card® Bonus Rewards program

Cruise and vacation packages

Special deals and promotions

No annual fees

25-day interest-free grace period

Balance transfer option

No minimum finance charge

No transaction fee for purchases




Visa® Platinum Premier

Low 9.90% APR

Minimum credit limit of $7,500

Up to $1,000,000.00 in travel accident insurance




Visa® Platinum Plus

Low 10.90% APR

Minimum credit limit of $3,000

Up to $500,000 in travel accident insurance




Visa® Platinum

Low 11.90% APR

Credit amounts ranging from $100 to $2,999

Up to $250,000 in travel accident insurance




Synced Visa® Card

Only for ages 16 to 18 with qualified guarantor

Low 1.00% APR*

Up to a $200 line of credit




Programs, rates, terms and conditions are subject to change without notice.

eZCard Log-in

Manage your Alabama Teachers Visa® Credit Card account online in just a few clicks. Visit www.ezcardinfo.com for registration and log-in information.

Visa® Chip Technology

Visa® Chip Technology




To ensure that you, our members, feel safe and secure when using your ATCU Visa® Debit and Credit Cards, we are in the process of implementing the EMV (Europay, Mastercard and Visa), commonly referred to as the new "chip" card. EMV is a joint effort between the three to ensure a secure and global way for MasterCard and Visa to be accepted worldwide. This new form of payment will aid in protecting against fraud by enhancing the security of card transactions.




ATCU Visa® EMV Credit Cards are available now on reissues and new cards. ATCU Visa® Debit Cards will follow suit in the coming months. Watch for more details on the EMV debit card release. We will also inform you when our Instant Issue EMV debit cards become available. Please read below for EMV Frequently Asked Questions (FAQs) for a better understanding of how this new technology will work to provide you with an additional layer of security when using your ATCU Visa® Debit and Credit Cards.





EMV FAQs




What is Visa® Chip Technology?




Chip technology refers to the microchip found on credit and debit cards. Each time a chip card is used in-store, a unique one-time code is created and validated before transactional approval. When the same chip card is used again at a different location, a new unique-code is created. This feature makes it virtually impossible to duplicate with a counterfeit card.




How do you use a Visa® Chip Card?




Visa® Chip Cards can only be used in a chip-activated merchant terminal. All you have to do is insert your card in to the reader, chip-side up and follow the on-screen prompts. The card must stay inserted in the merchant terminal until the transaction is complete. Just remember to take your card with you when you leave.




What is a chip-activated merchant terminal?




A chip-activated merchant terminal is a payment terminal that is able to accept chip cards as well as cards with the magnetic stripe. All payment terminals are different; however, you will notice a slot where the chip card can be inserted into the machine for payment instead of swiping the stripe on the back of the card.




What if a customer has a credit or debit card with a magnetic stripe and no chip?




Chip-activated terminals are equipped to accept cards with a magnetic stripe by swiping the card on the terminal. Most financial institutions and merchants are currently in the process of replacing cards and terminals to ensure they are EMV ready. For the next few years, both types of cards will be in circulation.




Are there any additional fees associated with chip-enabled cards?




No additional fees apply to your card.