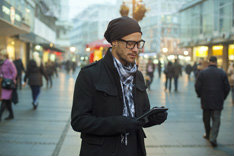 nHanced Checking (Share Draft)
Free checking is great. But free checking that pays you? Well, that's what we believe in. nHanced Checking from Alabama Teachers helps you make the most of your money with 2.50% APY* on balances up to $15,000.
We'll even pay you back your ATM fees*** -- right here in Sweet Home Alabama and at ATMs across the country.
Benefits

nHanced Checking is free checking that earns rewards, but there's never a monthly service fee or penalty fee if you come up short on qualifications. Monthly Qualification Cycle requirements must be met to qualify for the rewards. "Monthly Qualification Cycle" refers to the period beginning one day prior to the first day of the current statement cycle through one day prior to the close of the current statement cycle.




Monthly Qualification Cycle Requirements:

12 posted and settled debit card purchases--signature or PIN-based (ATM transactions excluded)*

One direct deposit or one ACH transaction or one Bill Pay (applies to your nHanced Checking account only)

One Online Banking log-in

Sign up and receive e-Statements




Benefits:

An APY of 2.50%* will be paid only for that portion of your average daily balance that is less than $15,000

A Dividend Rate of 0.25% will be paid on balances exceeding $15,000, resulting in an APY of 2.50% to 0.54%, depending upon the balance in the account**

Unlimited nationwide ATM fees will be refunded to nHanced Checking accounts if qualifications are met monthly***

No monthly service fee

No minimum balance to earn rewards

Free e-Statements
Free Visa® ATM/Debit Card

Unlimited check writing

Increase on new Term Share Certificate rates****

Reduction on consumer loan rates*****

Visa® Gift Card discounts

No minimum deposit to open




Additional Account Information:

Available to personal accounts only

Only one (1) nHanced Checking account per Social Security number

Must have at least five (5) approved services to qualify for nHanced Checking

Additional fees may be incurred for the following items: check orders, Overdraft Privilege fees, Returned Item fees, Insufficient Funds fees, Transfer fee, Statement Copy fees (other fees may apply). Imposition of these fees may result in reduced earnings on your account.





A posted transaction occurs when funds are actually withdrawn from the account. Posted debit purchases may vary by merchant; therefore, we have no control over these delays. Reversed debit card purchases will not count toward the required total. Debit card transactions processed by merchants and received as ATM transactions do not count towards qualifying debit card transactions. Only debit card transactions processed by merchants and received as POS transactions count towards qualifying debit card transactions.




**Balances over $15,000 earn a Dividend Rate of 0.25% on the portion of the balance over $15,000, resulting in an APY range of 2.50%-0.54% depending on the balance. For example, an account balance of $115,000 would earn 0.54% APY.




***Unlimited ATM fee refunds per Monthly Qualification Cycle when requirements are met. ATM receipt must be presented within sixty (60) days of the transaction for reimbursement of an individual ATM fee of $5.00 or higher.




****Subject to credit union terms and conditions.




*****Rates may vary depending on credit worthiness. Terms and conditions are subject to change without notice. All rates are subject to change without notice. Some restrictions may apply.




Account Information & Disclosures