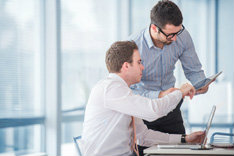 Term Share Certificates
Choose guaranteed returns to deliver the funds you need. Not hot-and-cold stocks that could cool when you need cash. Our share certificates give you higher rates on longer terms — ranging from 6 months to 5 years.
So you can schedule your savings in accordance with your long-term or short-term business objectives.
Benefits

Earn at a higher rate than standard business savings accounts

Lock in guaranteed returns for the length of your term

Higher rates on longer term share certificates

Terms range from 6 months to 5 years

Early withdrawal penalties apply

Funds are NCUA insured to protect your investment

$1,000 minimum deposit to open